The contractor business has a lot of freelancers or newcomers who need to worry about marketing, social media, online presence, writing estimates and a lot more. It can be overwhelming for a single person, which is why we should always take advantage of tools that can make those jobs easier and more efficient.
In this case, I'm talking about apps – list makers, word processors, photo editors, project managers, anything you can get your hands on to make your life easier. But when searching for these, you'll obviously find a lot of options out there. Some are free, some are not, but you don't have time to try out every single one until you find the top tier picks… which is why we're here.
The apps on this list cover a wide range of utilities. You certainly don't need all of these, but comb through them and you will likely find some that you definitely need. These are supposed to make your job easier, not harder.
And finally, with the exception of one, all of these have a free version you can use with great tools you never have to pay for.
Disclaimer: This article is not sponsored by any of the following apps I'm about to mention. While most of these have premium versions, I made sure to choose as many as possible with either free trials or totally free versions so that you can use them without having to pay. Also, I have personally used every single one of these, so I can swear by the quality and value they offer.
Evernote
There are many alternatives around, but Evernote remains one of the best at what it does. If you like note-taking on the fly and enjoy having a place other than folders to organize documents, Evernote is the perfect app.
Like for most apps, it has a premium version with some really useful features for businesses, but the free version already gives you a lot to work with. You can take any number of notes in rich text, save PDFs and annotate them, scan entire documents for safekeeping, directly scan business cards for contact information… it's pretty great.
It's simple enough for taking notes but powerful enough to run a business. If taking notes is your jam, you have to give this one a try.
Bear
Bear is very similar to Evernote in the sense it's a note-taking app, but the focus is more on the writing. Bear isn't focused on saving documents, PDFs and multimedia notes. Instead, you'll resort to Bear when all you want is to write without distractions – and keep your notes organized.
I used Bear for a long time in the past. The interface is clean and customizable, the markdown is intuitive for writing, and it's free. For writing blog posts, for example, Bear is a dream come true.
The only drawback is that it's only available for Mac, iPad and iPhone. If you're a Windows user exclusively, I recommend checking out iA Writer.
Toggl
Once again, there are many options on the market for time-tracking and for most things, you can go a long way with a simple pomodoro timer. But as a contractor you will find that accurately tracking time is highly valuable, as long as it's never cumbersome.
I found Toggl to be the most flexible and easy to use time-tracking tool. It already has the great advantage of being free, but like Todoist (which I'll mention next) it has a wide range of integrations with other apps.
For example, you can start tracking something through the Google Chrome extension, leave, and it will still be tracking the same task on your phone wherever you are. It's very well integrated and makes for a seamless workflow – plus I never had any problems with it.
Todoist
I am absolutely addicted to list apps and I've used pretty much all of them… and Todoist is still the best by far. That's not to say the others are bad – in fact, I can wholeheartedly recommend Any.do, MinimaList, and Microsoft To Do (previously Wunderlist) just to name a few.
But Todoist is the one I keep coming back to. Simple features that are well integrated with tons of other apps, including extensions for Chrome for an easier time and available for any smartphone on the market. One of my favorite things to do is take advantage of the integration with Toggl, which lets me instantly track time for specific tasks without having to switch apps.
The interface is clean, but it has features like scheduling, leaving comments, attaching notes, assigning tasks to specific people you invite to your projects – it can be simple enough for a grocery list and complex enough for a large scale project. You can do anything with this app.
Trello
Trello shares a lot of similarities with Evernote and Todoist because it can also be used to take notes and make lists, but it feels distinctively different from both of those apps. You should seek out Trello if you are a more visual person – Trello uses cards and columns to organize projects, making it easy to judge projects at a glance with no confusion.
It also has all the other basic features you'd expect: scheduling tasks, creating subtasks, assigning it to members of your team, color coding cards to keep them organized, and much more.
A nice addition is the seamless integration with Google Docs (which I'll mention in a sec), making it easy to track and interact with your documents all in one place.
Asana
Asana is a project management tool for teams and larger projects. You can do the same thing with Todoist and Trello, but Asana is more focused on seamless communication and integration between a team, offering a set of more robust features for project management.
They have some incredibly advanced tools on the premium versions – you can check those out and judge for yourself if they're useful to you, – but you can use Asana for free with a limited number of projects. It's more than enough to try it out and see if you like it!
Google Docs
I'd say Google Docs has become the bread and butter of the modern freelancer. Don't get me wrong, Microsoft Office (Word, Excel, etc.) are all just as good with the advantage of having an offline app if you prefer those, but I find Google Docs much easier to use, integrates quite well with most other apps, and allows for seamless team collaboration all for free (really!).
I write every single article on Docs, because it's easy to share with my editor, create comments and solve them, and revert changes whenever that's necessary. But on the side, you also have Sheets and Slides – the alternatives to Excel and PowerPoint respectively – which add even more great tools for presentations and tracking projects, money, workflow, etc.
But for contractors who need to write estimates and contracts often, you can create templates or easily duplicate similar documents to save a ton of time, with the added benefit of having EVERYTHING always saved on the cloud, instantly. I've had more than one occasion where my computer stopped working but I didn't lose a work day because all my documents were readily available on my phone and iPad.
Canva
Probably the most accessible design app for marketing available right now. If all you want is an easy way to create Instagram and Facebook posts, this is the way to go. It's entirely online, comes with plenty of templates and fonts to play with, and it's easy enough that anyone can pick up and create some posts with no prior experience.
It also has the added benefit of being free – it does have a premium version with more advanced features, but you have almost everything available for free. 
Adobe CC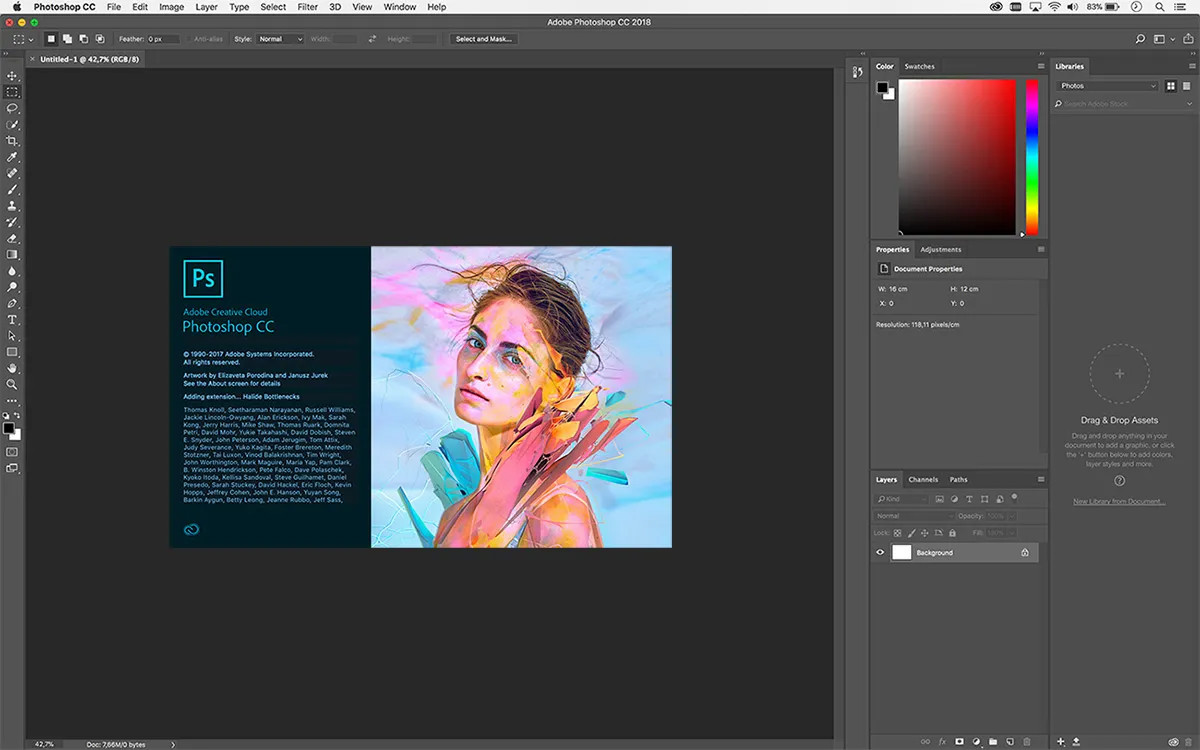 The Adobe apps are some of the most advanced on the market, meaning they are not as beginner-friendly. However, once you learn their ins and outs, there's nothing you can't do.
This is basically the only major downside to the Adobe Creative Cloud bundle – it's the only app on this list that doesn't have a free option. It does have a free trial for any of the programs, but you must subscribe to continue using once that period is over. Also, you can no longer purchase any given program outright, they are all subscription-based. Some people are not up for that, so be warned.
But on a positive note, you gain access to over 10 industry-standard applications for a relatively small monthly fee. We're talking apps that communicate well between each other, have options for iPad and iPhone that are equally powerful, cloud storage, and… well, everything.
But for the purposes of a contractor business, you probably don't need over 10 individual programs. Photoshop and Illustrator alone are two excellent applications for creating graphics and editing pictures, as well as Instagram posts and the likes. A single subscription to Photoshop will take you quite far as long as you take the time to learn the program.
Affinity Photo
If anyone asks you for an alternative to the Adobe bundle of software, Affinity is the next best thing. Affinity Photo is just as good as Photoshop and comes with a few great advantages: it's easier and more intuitive to use, but also much cheaper and allows you to purchase the software outright without a subscription.
Plus, as someone who has used Photoshop in the past, the interface is similar enough that you can find your way around most features as soon as you open it up.
An image editing software comes in handy to create social media posts or simply edit pictures for posting – it's a sharp tool you can rely on anytime you need it.
Don't want to pay for either Affinity Photo or Adobe Photoshop? Consider using GIMP – an open source photo editor that works similarly to both of these programs and it's totally free.
---
Take the first step towards growing your business today and start receiving leads that will make you money. — Sign up with homeyou!